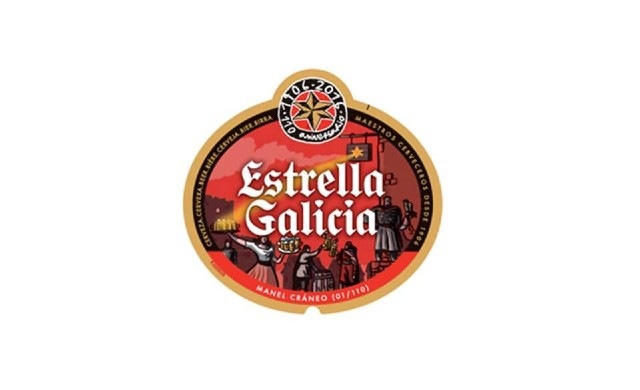 04 Jul

"110 labels for the 110th anniversary of Estrella Galicia"

In 2016, Hijos de Rivera celebrates the 110th anniversary of the founding of the company, and for this occasion, they have prepared to issue 110 labels designed by 53 international artists.

220 million bottles of "Estrella Galicia Especial" (110 million 33 cl. bottles and a further 110 million 25 cl. bottles) will be decorated with the labels that have been developed under the artistic supervision of illustrator Manuel Cráneo, the creator of the first label.

Additionally, all labels will be presided by the brand logo developed by the artist Jorge Cabezas.

Since the end of 2015, Rieusset has been working with Hijos de Rivera in the preprinting of labels in order to obtain a result worthy of the event and which would meet the expectations of Hijos de Rivera. In order to preserve its essence during the industrial printing process, we have worked on each label with the same care, effort and determination as that dedicated by each artist in its development. Our objective has been that of minimizing printing difficulties, especially in the register, wherefore we have taken great care in working with the order and overlapping of the colors, in the screening and fine lines. Furthermore, since we were printing on a metallic base, and without the option of using an electrostatic printing aid to insure complete ink transfer, we have had to conjugate the volumes of the cylinder cells with the ink viscosities in order to arrive at the exact amount of ink in the color gradients to insure optimum printing quality.
The labels were printed this past month of March in Rieusset in the presence of the Marketing Managers of Hijos de Rivera, on which occasion the first label by Manel Cráneo was joined by those of the rest of artists such as Alberto Vázquez, Brais Rodríguez, Branda, Calpurnio, Carla Berrocal, Carlos Arrojo, Dani Padrón, Dani Xové, David Rubín, Fran Bueno, Gallardo, Guitián, Héctor Francesch, Iker Ayestarán, Iñaket, Jacobo F. S., Jano, Jon Suárez, José Domingo, Juan Berrio, Ken Niimura, Leandro Barea, Luís Davila, Miguel Ángel Martín, Mamen Moreu, Ajubel, Manel Fontdevila, Marcello Quintanilha, Marina Seoane, Mariscal, Mauro Entrialgo, Miguel B. Núñez, Núria Tamarit, Óscar Villán, Pablo Amargo, Pablo Gallo, Paco Alcázar, Paco Roca, Puño, Miguel Robledo, Pellejero, Sagar Forniés, Santy Gutiérrez, Sergio Mora, Sonia Pulido, Ulf K., Víctor Coyote, Víctor Rivas, Xan López Domínguez, Xulia Vicente, Xurxo G. Penalta and Yago García.
The wide diversity of styles of these labels will result in a collection of historic bottles for the customer. In the words of Manuel Cráneo "this is a project that will be the object of desire for collectors due to its unique character, since they are 110 little works of art".
Watch the video 110 obras de arte para una cerveza ExageradamenteBuena