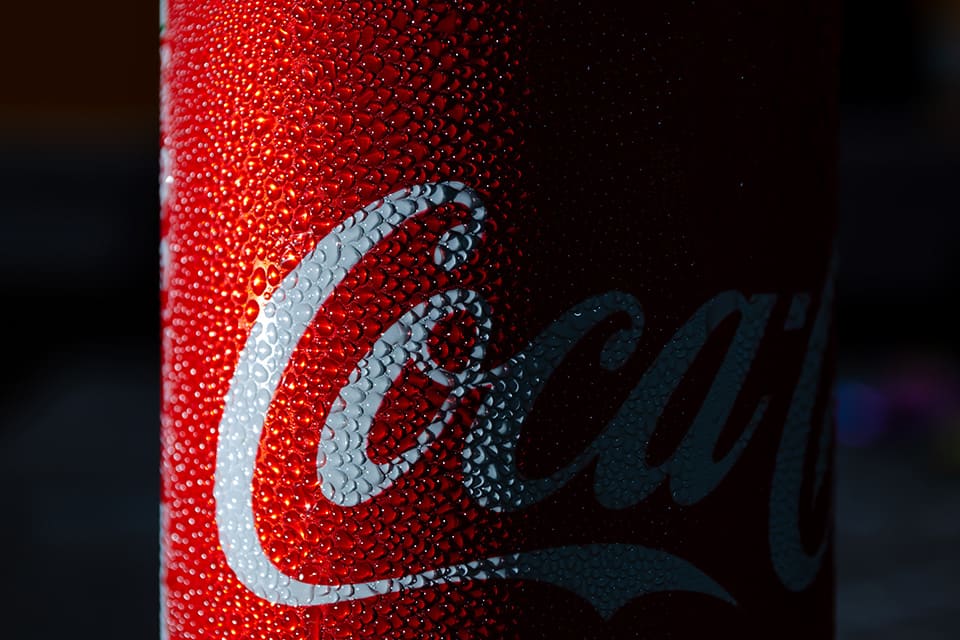 22 Nov

Make it possible for people to find you with their eyes shut

When we stop and look at the labeling of any product, we can see the enormous importance that this has for the company that launches it on the market as well as for the end consumer. On any label we find the necessary information about the characteristics of the article: its composition, ingredients, expiration date, place of manufacture, precautions for use, etc. In this way, the label is able to reflect in a very visual way not only the product's name and brand, but also its content, thus allowing us to differentiate it from other similar ones.

Personalized labeling

When we say that personalized labeling is a product's best presentation card, we are not exaggerating one bit. That label, with its logo, its colors, its picture or its special design, is what invites us to try a new product that we have never consumed before, and which otherwise would never have managed to call our attention. Let us not forget that we take the majority of purchasing decisions at the point of sale itself (supermarkets, shops, pharmacies, tobacco shops…), and something that does not call our attention does not usually end up in our shopping cart. For this reason, the labeling of an article is essential to any product's marketing strategy.

This personalized labeling, its color, its own uniquely different way of placing the letters that make up its name, enters through our eyes and our senses. And when this article becomes a habitual part of our shopping list, it is precisely this labeling which allows us to find it on the supermarket shelves and sales outlets, even if they are full of other products of the same kind. We search for it with our eyes, and its distinctive label is what makes this article stand out for us above the competition, allowing us to purchase it again. 

Example of brands that have personalized their labels

The label makes our product unique and special. Some brands have seen this with such clarity that they have embarked on advertising campaigns with personalized labels, with which they have achieved resounding success on the market. There have been innovative and different campaigns such as those carried out by two important brands we all know, Nutella and Coca-Cola, two giants on the consumer market that have known how to make even more of their products, differentiating them once again from the rest. 

Nutella started a cross-media marketing campaign with E-urek, a prestigious company specializing in direct promotional marketing. This campaign, aimed at increasing the brand's popularity in social networks, offered personalized labels to all its fans on Facebook, who by means of a simple application were redirected to the website of Ferrero (the company to which Nutella belongs). Once there, the consumers submitted their personal information and in a few days they received at their homes two labels with their names written on them. All they had to do was stick them onto their jars of Nutella… and done! They now had a totally personalized product. 

In the beginning, the company calculated that it would be able to cover the new promotion with 1,000 labels per week. Who wouldn't be happy to see their name in big letters on a jar of Nutella? However, the consumer response was so overwhelming that the labels prepared for the first week ran out in only a few hours. The company therefore had to make a change with regard to its initial forecast, increasing the number of labels to 1,000 per day. It was a smash hit!

Of course, the results far exceeded the company's own expectations, which resulted in a spectacular multiplication of the number of its followers as well as the likes it received. If before starting the campaign they had approximately 34,000 followers on Facebook, when it was over only a few months later they had around 300,000. Many of these even posted photos of them holding a jar of Nutella in their hands, showing their names on the label in large letters. In this way, it was the consumers themselves that took charge of doing the advertising for the product.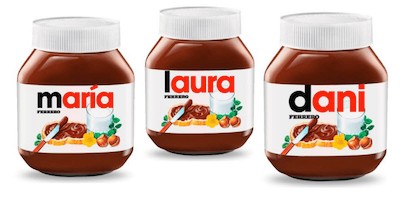 Image source: Confitería Latam
But Nutella was not the only company that opted for an innovative and direct marketing technique such as this one. A year earlier, Coca-Cola, another market giant, also achieved an unprecedented success with a similar campaign in which it used personalized labeling as a selling point. It was launched in Australia where it was given the name "Share a Coke", a phrase that was used as a slogan during the promotion. All the cans and bottles of the famous soft drink were personalized, with more than 100 first names written on its labels and containers.
The company in charge of carrying out the promotion was Ogilvy, a prestigious digital marketing company with which Coca-Cola has habitually worked for several years. The success was so overwhelming that the multinational company decided to export this promotion to another 30 countries, Spain being one of them. This campaign was launched in our country some years ago, and Spanish consumers embraced this initiative in such a spectacular way that in the month of December more than 500 million containers had already been personalized with the 120 more widely used names (according to data gathered by the National Institute of Statistics), men's as well as women's. 
Although the campaign was originally created in order to attract the 'millennial' public, it turned out to be incredible to see adults in supermarkets looking for their names written on each can and bottle of Coca-Cola, with the same excitement as that displayed by the younger consumers and children. They even messed up the supermarket shelves in their search for the names of their partners, children, relatives and friends, since all of them wanted be able to "share" a can with their loved ones. With this risky but innovative campaign, the company was able to strengthen the relationship between the brand and its consumers. And we are referring to consumers of all ages, which is not easy to achieve at all.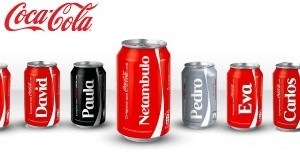 Source of the image: Netámbulo 
If Nutella increased its followers on Facebook by 700%, on its web page Coca-Cola obtained an average of 3000 hits on a daily basis and more than 50% new visitors. According to data facilitated by "Coca-Cola España", the sales increased by 13% in just the first five weeks of the campaign.
Therefore, it is not enough to launch a good quality product onto the market even it is accompanied by an eye-catching logo. You also need labeling that rises to the occasion, since it will be the label itself which will act as the attention-getter for the end consumer. 
Thanks to it, the sales of our products will be what we expect to get… or not. A product will have very little demand among consumers, no matter how good it might be, if it is not accompanied by a label that makes us notice it. 
Some brands, such as Coca-Cola or Nutella, have always known how to differentiate themselves from the rest, and in a market that is as saturated as the current one, that is not an easy task by any means. But additionally, they have managed to start personalized marketing campaigns that have been met with unprecedented success in the consumer market, which nowadays is also not easy. The success for both companies was a resounding one. The key? Knowing very well how the consumer's mind works, knowing how to bring the brand closer to the customer and create a bond with them. This is something that seems very simple, but which is not always achieved. Coca-Cola as well as Nutella knew how to launch a similar and totally accurate message to the world: "Each and every one of our customers is important to us." The message hit home, and the personalized labels were the tool that was chosen to achieve success.
What does Rieusset do in this regard? 
The Rieusset team is aware of the importance of research, innovation and entrepreneurial proactivity in order to develop new solutions that are ahead of—or adapt themselves to—market tendencies. Therefore, in order to address this new tendency we are developing internal projects to successfully cover this demand soon.