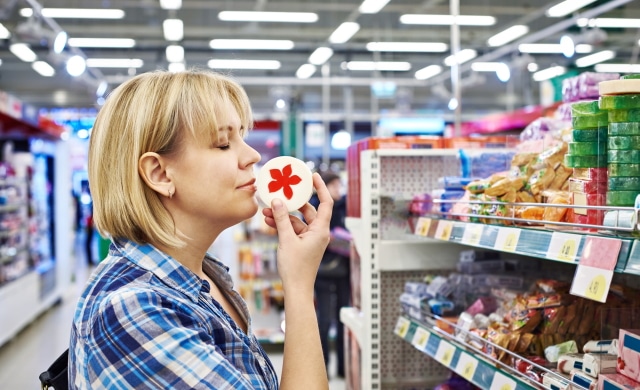 04 Oct

Scented packaging in rotogravure
Rotogravure printing of packaging using scented inks 
In our commitment to constant innovation, we have developed a new rotogravure printing process that allows us to print scented labels and flexible packaging.
In recent months, our R+D+I team, in collaboration with a flavored capsule company, have been working on the development of an engraving system that preserves the scented capsules that are added to the ink.
The innovation that we are presenting to the market today is the achievement of a scented rotogravure printing system in which the scented capsules, the shape of the alveoli of the cylinders and the amount of ink in them have been changed. With this system we guarantee that the scented capsules do not break during printing and that the aroma lasts in the packaging container until it reaches the consumer.
With this innovation, at Rieusset we open up the possibility of rotogravure printing of very long runs and larger formats of scented labels and flexible packaging at a very competitive price. The new printing system is also suitable for paper and plastic containers and labels.
Another interesting aspect that opens up creative possibilities is that the color of the ink and its scent are independent, since scented inks are transparent. In this way we can print in violet ink with an orange smell or make a green container with a smoke smell.
Aromas and applications of scented inks in rotogravure
Just imagine that the new drink that you have launched on the market, while still closed, smelled of the star ingredient that you have added. Or that the container of your gel, moisturizing cream or shampoo had the scent of the product on the outside and remained on the hands of the client after touching it!
Rotogravure printing with scented inks has multiple applications and opens up a range of possibilities for all brands that market products with attractive aromas but whose packaging limits the spread of this scent. An example of this would be soft drinks, spirits, ice cream, etc.
At Rieusset we offer the printing of labels and flexible packaging in different aroma levels of the following types:
Fruit: pineapple, watermelon, apricot, orange, banana, cherry, coconut, strawberry, tropical fruits, lime, kiwi, raspberry, lemon, tangerine, mango, green apple, blueberry, pear, peach, grapefruit, plum, currant, blackberry and grape.
Food: hazelnut, cookie, coffee, cinnamon, caramel, bubble gum, chocolate, onion, coca cola, cheese, licorice, mint, honey, Nutella, toast, strawberry syrup, pizza, vanilla truffle, ginger and cane sugar.
Plants and flowers: aloe, anise, chamomile, rosemary, green tea, thyme, flower bouquet, cyclamen, grass, eucalyptus, gardenia, carnation, jasmine, juniper, iris, lavender, wood, sandalwood, lilac, lily of the valley, white musk, orchid, peony, pine, rose, citronella, amber, violet.
Others: cinnamon orange, sea breeze, incense, monoi oil, leather, feminine fragrance, pipe tobacco, talcum powder, Marseille soap, smoke, barn smell, rotten egg/sulfur and methane.

Scented inks in other printing systems
And what was there before the possibility of rotogravure printing with scented inks?
Long before the innovation that we are presenting there were already scented inks for other printing systems and media. These were created by ink producers in their efforts to reduce the unpleasant odors of traditional inks. Once this was achieved, the logical evolution of the sector was the creation of inks with scented microcapsules with more attractive fragrances such as rose, mint, chocolate or banana.
Thanks to advances in inkjet technology, pioneered by Canon in the 1980s, the possibility of printing with scented ink-jet inks was opened up. With regard to other printing systems, serigraphy, flexography, rotogravure and offset were the ones that first incorporated scented inks to later try digital printing, although with limitations, and today, at Rieusset, we present the possibility of using them in rotogravure.
Since then, the applications of scented inks have been numerous and have been particularly well received in graphic and editorial products such as catalogues, brochures, children's books or cookbooks, letters, t-shirts, wooden or plastic crafts, perfume ad inserts in magazines etc.
And why hasn't it been used in packaging and labels? Above all, due to the technical limitations of the resistance of scented microcapsules, the subsequent manipulation of the printed materials in order to package the products, and the use of lacquers on top of the ink that act as a barrier and limit the spread of scents… The solutions that the market had found so far were to add peel-off labels or scented inner sheets to the containers. Currently, the scent goes in the most superficial layer of the lacquer so that it may be broken by friction, thus achieving the desired effect when the product is opened.
All these limitations have been contemplated and overcome with the proposal of printing labels and flexible packaging in scented rotogravure that we have launched.
Bearing in mind that we remember 5% of what we see and 35% of what we smell, and more than 75% of our emotions are generated by smell, we believe that the option of creating scented packaging is a very powerful marketing tool for cosmetics, food and beverage products that want to enhance, strengthen and differentiate their brands.
If you think your brand could benefit from this innovation, contact us and we will advise you without any obligation.
---
| | | |
| --- | --- | --- |
| We Manufacture: | Meet Rieusset: | |