02 Aug

We bring you the trends in labeling

A change in product labeling

 Our society has undergone many changes in recent years due to the digital revolution and the current situation conditioned by Covid. This affects the way we consume: consumers change, buying habits change.

If consumers' buying habits change, it makes sense for product labeling to change. Let's see what the most important trends are that Rieusset is already applying in the printing of labels.

Labeling trends

According to the 2021 Trends Report carried out by Connociam and Packaging Cluster, the most relevant and impactful trends in the label industry are sustainability and consumer experience.
Sustainability: Companies are increasingly committed to sustainability as a result of consumer demand for more environmentally friendly brands. This goes beyond the reduction of plastics and the use of recyclable and reusable materials; it is also about offering more value to consumers.
Consumer experience: Beyond being aesthetically pleasing and attracting attention, it is about offering the consumer an experience. This provides added value, creates a connection with the consumer and helps both the brand and the product to be remembered.
What do we offer at Rieusset so that our clients may adapt to these market trends?
Sustainability: more sustainable labels
We print labels on more environmentally sustainable materials, such as these:
One of the trends in labeling is the introduction of linerless labels, a technology that we have developed and homologated in order to be ready for the massive implementation phase of the product on the market.
 Linerless labels are an innovative and sustainable solution because by not having a liner they allow to reduce the raw materials needed for their manufacture by more than 15% and CO2 emissions by 50%.
They are also a more economical option, since they cut costs in material management, transport and storage in half. If you want to know more about this solution, check out our post on linerless labels.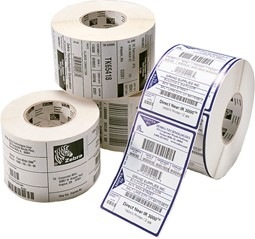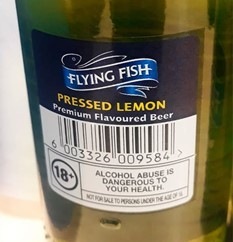 Recycled paper and FSC paper in labels
The increase in the use of recycled paper labels due to market demand is a fact. Consumers increasingly value sustainability and this has an influence when choosing materials for labeling.
We can print labels on recycled paper or paper with the FSC seal, which aims to promote appropriate management for the environment that is beneficial for society and economically viable for forests.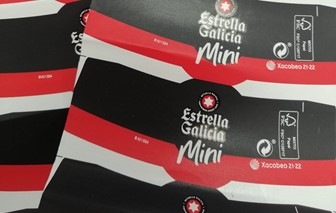 Roll labels: more efficient, more sustainable
We print labels on rolls because this enables fast and efficient production. In addition, they are more sustainable, since they contain less material: they are labels that are 10 microns thinner.
Therefore, taking all the advantages of this type of label into account, there is no doubt that roll labels are a labeling reality that will continue for a long time in the industry.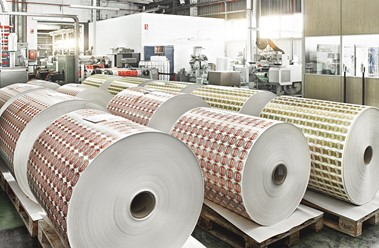 Experience: experiential labels
By combining rotogravure printing and digital printing, we are able to turn labels into a new experience for the consumer:
We print invisible labels, the so-called non-label-look. They are transparent and generate the perception in the consumer that  there is no label on the product.
In addition, this type of label has the advantage of being more sustainable, since by reducing the ink on the label by up to 70%, the environmental impact is minimized.
Discover all the advantages, applications and design solutions in our previous article on invisible labels.
We work with phosphorescent inks to create labels that are also visible in the dark. The operation is simple: the ink is charged with UV radiation during the day, stores the energy and then emits it in the form of light.
This is one of the most striking and original options for label design. Additionally, it produces greater impact, visibility and attention, which translates into a preference by the consumer over other products.
Labels with invisible ink
In addition to labels that glow in the dark, we print labels with invisible ink. In other words, labels with ink that is invisible under "normal" light but that becomes visible under ultraviolet light.
This solution is mainly used in products that are consumed at night, such as in liquors and drinks for discos or night clubs.
We also work with thermochromic inks, which change color with temperature, both for hot and cold. It is important for the colors used in the temperature change to have a high contrast, so as to make visual recognition easier.
It is normally used on labels for products that have an ideal temperature for consumption, such as beer.
Incorporating QR codes into product labels is an innovative solution and one which has many advantages, wherefore at Rieusset we offer printing of this type of code.
First of all, it allows consumers to access much more information about the product, such as its traceability or origin. Without a doubt, the fact that consumers know your product well is a huge plus, since they can positively value the transparency of the brand and be well informed.
Secondly, this technology helps create connections with the end consumers, which translates into very valuable information about the purchasing and consumption habits of your products.
We print gamified labels, that focus on the consumer experience. This consists of adding a design to the label that invites you to play, for example: word searches, crosswords, mazes, puzzles …
Being an entertainment for consumers helps your brand be remembered.
Consumers increasingly demand more personalized products and services, and this also transfers to labeling.
One of the most important benefits of creating personalized labels is that it increases the users' identification and connection with the brand, thus making it more relevant to the consumer.
For this, at Rieusset we use digital printing, which allows for printing high quality personalized labels.
At Rieusset, thanks to digital printing, it is possible to make special editions with label designs created by artists or illustrators.
This trend in the sector generates a great opportunity for differentiation, brand awareness and to attract the attention of consumers, in addition to attracting new customers.
We like being pioneers in innovation and trends so that you may bring these closer to your end customers. If you want to apply any of these ideas to your product, you want to change your labeling or you have an idea and would like to develop it, contact us. We are looking forward to helping you.
We will make your product stand out.
---
| | | |
| --- | --- | --- |
| We Manufacture: | Meet Rieusset: | |