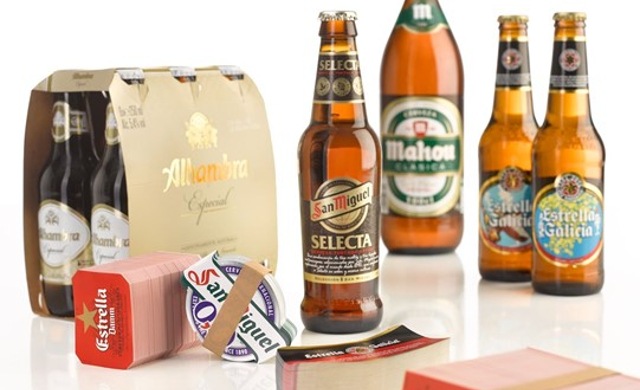 15 Nov

Creativity in beer labels

Índice de contenidos:
Creativity in the beer sector
Did you know that buyers only take 25 seconds to decide to buy a food product? And that 40% of the products found on the supermarket shelf do not receive any visual impact from the buyer? These are some of the most striking data of the research carried out by the Project ShopperLab. These findings confirm something that we at Rieusset have been pointing out for a long time: it is of paramount importance that products stand out and attract the attention of consumers on the supermarket shelf
Since a product has very little time —just a few seconds— to create an impact on the buyer, it must have original, different and eye-catching packaging. In the world of food this is implemented a lot, since these are products that must "enter through the eyes".
Specifically, the world of beers stands out for being a sector that has always taken great care in the design of its labels, since it knows that this is the best way to make its products stand out. For many years now, beer brands have invested in designs, materials and finishes to differentiate themselves, betting on the most creative and innovative ideas for their labels.
Here we share some of the most interesting and widely used creative ideas and the latest trends in beer label creativity.
Art and illustration in beer labels
To achieve a beer label with a creative, different and attractive design, many beer brands have collaborated with artists and illustrators. Surely you have seen a limited edition of a beer brand that has collaborated with an artist or fashion illustrator. Some examples…
Anniversary of Estrella Galicia
On the occasion of   they decided to do something special with their labels. The result: a collaboration with 53 national and international artists (countries such as Cuba, Germany, Brazil and Japan). Among them are the likes of Mariscal, Calpurnio, Rubén Pallejero, Manel Cráneo, David Rubín, Luis Dávila, Héctor Francesch… These artists were in charge of designing a total of 110 labels (one for each of the brand's anniversaries). Every one of these labels followed the same theme: beer culture.
This special edition, a very attractive one for collectors, even had an exhibition at the Luis Seoane Foundation in A Coruña.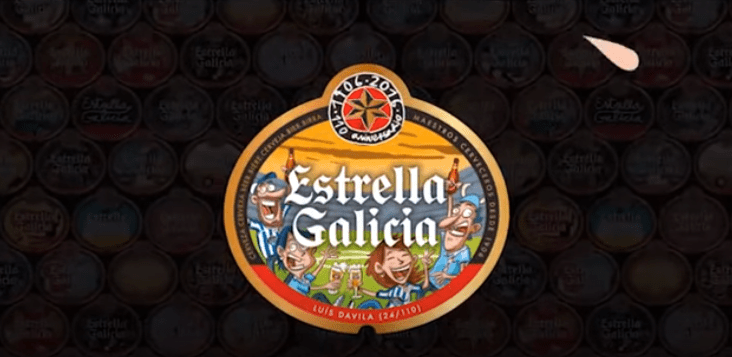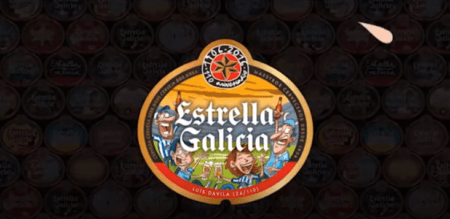 Cruzcampo, a beer with a lot of art
The Cruzcampo brand, after the huge success of its advertising campaign "with a strong accent", has decided to continue strengthening its roots by creating a collection illustrated by Andalusian artists.
It is a limited edition of Cruzcampo Especial beer. The designs consist of these artists' interpretation of some typical Andalusian words, for example: "poderío" (strength or power) or "arrejuntarse" (get together).
As they explain, "there are words that have character, magic and speak to us of our roots" and this is Cruzcampo's way of honoring them. The result is a very original and creative special edition, which is sure to attract the attention of consumers.
Amstel with Valencian artists

Amstel beer is another brand that has opted for collaborations with artists. Specifically, as part of its "Amstel Xè quin barri" campaign, the brand collaborated with 19 Valencian artists. Each of them designed a representative label for one of the districts of the city of Valencia (19 districts in total).
For several months, the bottles of Amstel Original beer made in Valencia displayed 19 labels created by Valencian illustrators, thus giving recognition to each of the city's districts.
In fact, this went beyond just the design, and votes were taken, celebrations with the neighbors were held and the illustrations were exhibited in the cultural space of Veles e Vents (Amstel Art).
Materials and creative shapes in beer labels
Beer companies are known for their innovation in new materials and shapes for their labels, creating a creative and eye-catching image. Let's have a look at some of the materials and shapes most used in the beer sector:
– Metallized paper and inks: the metallic effects in beer labels are some of the most used ones by the industry, since visually this is very striking, but above all it is used in order to achieve a clear differentiation from the rest of the beers in the supermarket. This effect is used both on the bottle collar and on the label and is achieved well with metallized paper or metallic inks.
High gloss gold inks are in high demand in the beer sector, as they confer an image of quality and prestige to the product. Achieving that finish is highly valued in the beer industry.
Here we share a couple of examples of historic labels that were printed at Rieusset with this metallic effect: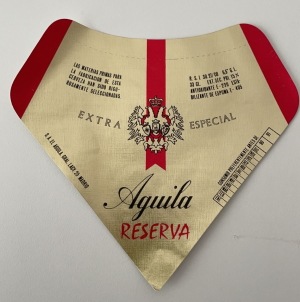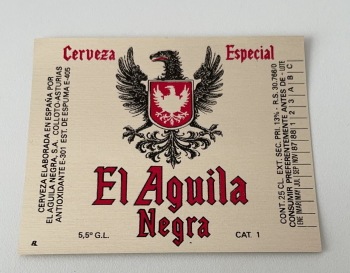 – Die-cut: The beer sector has always wanted to go beyond the typical rectangular label shape, opting for oval, round and other different shapes and figures, thereby creating its own "shield". At Rieusset we print and cut creative beer labels with unique dies for each brand to give them distinctive shapes, which helps to differentiate the product.
Following are a couple of examples of historic die-cut labels from that time: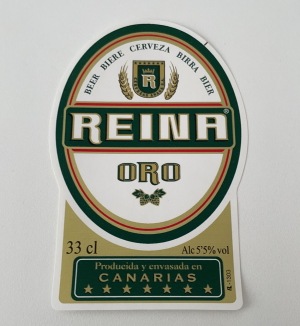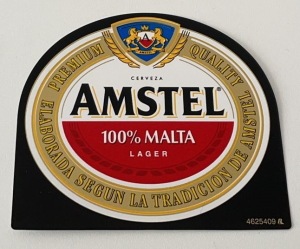 – Sleeves: using sleeves is also an original way to label beer. The main advantage is that this is a type of label that occupies the entire bottle, wherefore the space to add creative resources is much greater and the possibilities of attracting the consumers' attraction and differentiating yourself from the competition increase.
Trends in beer label creativity
– Personalized labels for special editions: Personalization is one aspects which is increasingly demanded by and important for consumers. This trend has also reached the beer sector, where more and more brands are creating personalized labels for special target groups, celebrations, festivals, events, competitions, special editions or collector's editions.
A good example of this is Estrella Damm, which creates a special edition every year at Christmas to be distributed among its employees. This Christmas edition always had a different label with a custom design. Over the years, this action of the brand became widely known, until in 2013 they decided to create this special edition not only for workers but also for their customers.
– Labels with thermochromic inks: This type of inks change color with temperature, cold and hot. Beer is a product that has an ideal temperature for consumption, so using this type of ink is highly recommended.
For example, a few years ago, Estrella Galicia decided to make a special Christmas edition with this type of ink. They created a Christmas design containing a star which changed color when the beer was at the ideal temperature for consumption. Something original and surprising that caught consumers' attention.
– Cobranding collaborations: We have been seeing different types of collaborations between beer brands and brands from different sectors for years. But what is currently the trend is the collaboration of cobranding with film projects, such as series and movies. A very recent example is that of Estrella Galicia and the famous series La Casa De Papel. The beer brand has created a special edition of its labels for the last season of this successful Spanish series. At Rieusset it has been a pleasure to participate in this collaboration, printing the labels, taking care of every last detail. These labels are sure to catch the consumers' attention.
Beer label printing specialists
In the food sector, specifically in the beer sector, more and more marketing strategies are being carried out to differentiate products from the ever-growing competition. On many occasions, marketing strategies involve making modifications to product labels, making limited editions or special editions of beer labels, such as collaborations with illustrators and artists, personalized labels, collaborations with projects, etc.
At Rieusset we are specialists in beer label printing, being able to do long label runs using rotogravure printing or by using mixed (rotogravure + digital) printing for limited editions, promotions and special campaigns.
If you have any creative idea for labeling your beer or want to improve it… Contact us, we can help you. We will be delighted to advise you on how to achieve more creative labeling which captures the attention of your target buyers.